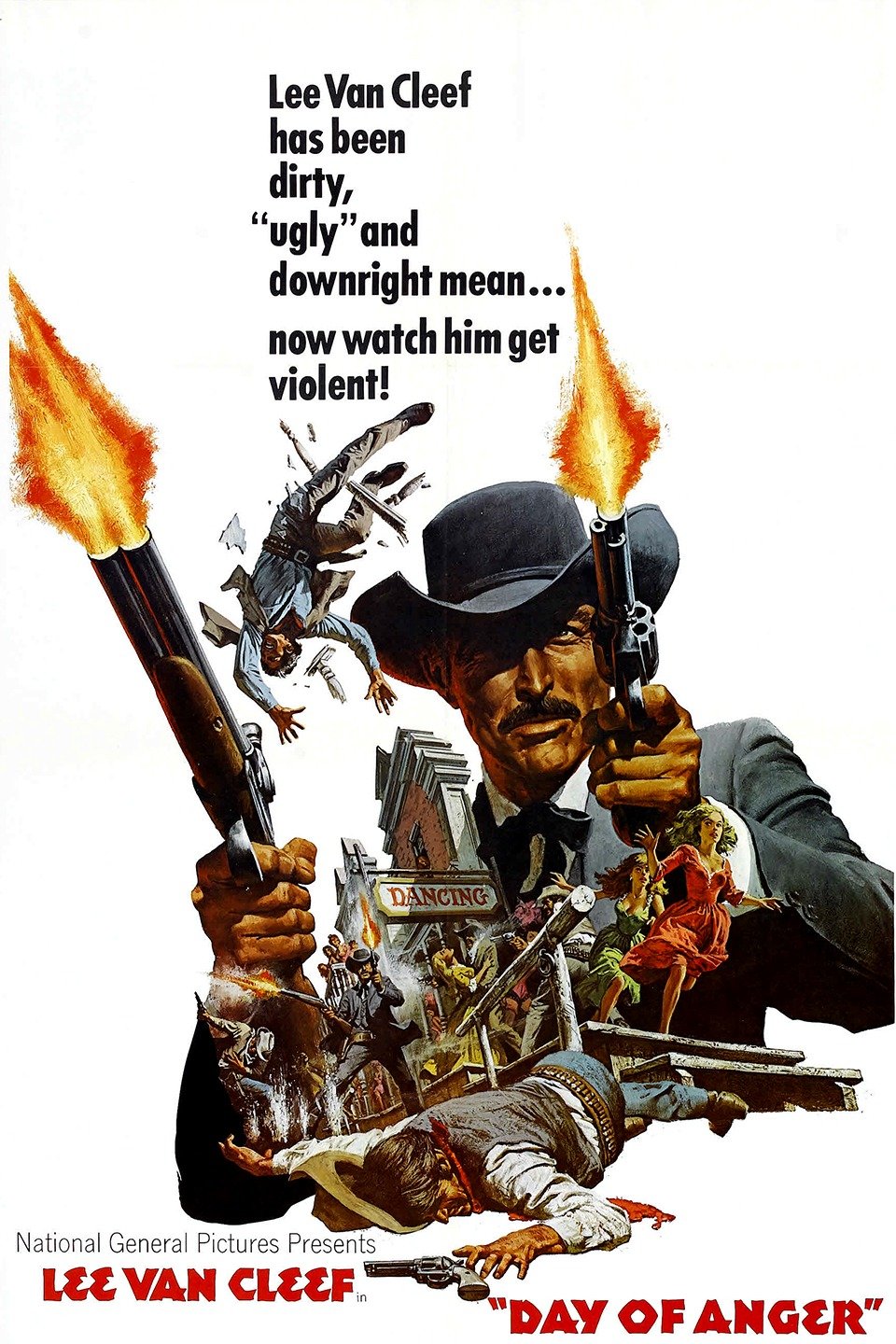 Theatrical Poster
Director: Tonino Valerii
Rating: M
"Day of Anger" is a Spaghetti Western film that tells the story of Scott Mary. Mary is a poor "bastard" that cleans the streets of his town Clifton. He is constantly bullied by everyone, until he meets Frank Talby. Talby is known to be one of the greatest gunmen ever, and Mary instantly begins to admire him. After saving Talby's life, Mary is taken under his wing to teach him to be the best at gun-fighting. What Mary doesn't know is Talby's real motives, and no matter how much people warn him, he does not listen. A tale of betrayal and revenge then begins, making a climax one will never forget.
The film stars Giuliano Gemma as Scott, Lee Van Cleef, Walter Rilla as Murph, and Christa Linder as Gwen.
The Spaghetti Western genre has always been hit and miss for me, because there are the occasional movies that tell very powerful stories, and some that are just plain boring. Luckily, "Day of Anger" created a schema of what every Western should be. There was beautiful cinematography, wonderful scenes of action, engrossing characters, a grandiose and triumphant score by Riz Ortolani, and grit that will leave an impact on the viewer. I really love how the film balanced the action and story, because a lot of Westerns have too much of one of those, and not enough of the other. Also, the plot was much more than your typical "Cowboy flick," as it brought up themes of morality and corruption. I watched the hour and 53 minute Italian version of the movie, and while I believe it could have been a little shorter, there was not a moment that I was bored.
Arrow Blu Ray Release
The copy of "Day of Anger" that I acquired was the Blu Ray/DVD set from Arrow Video. This three disc collection gives the viewer the definitive look at this film. On the Blu Ray disc, there is the original Italian version of the movie with option of Italian or English language, and there is also a shortened version that is only in English. All of these are available on the two DVD discs also included. The transfer for the film was absolutely beautiful, with a picture so clear that the movie didn't look its age, and the sound filled the air. The special features included are also good, with interviews with direct Tonino Valerii, screenwriter Ernesto Gastaldi, and film critic/author Roberto Curti. Also featured is a deleted scene, trailers, a booklet by Howard Hughes, and a reversible sleeve with artwork approved by Reinhard Kleist. This set is so worth the money, because it gives a full look at the movie, and truly does it justice.
"Day of Anger" was a pleasant surprise in my movie watching, and I can honestly say its one of my new favorites in the Western genre. It is a very powerful and action packed flick, and it will not disappoint. Definitely check out this criminally underrated film, because it will blow you away.
Grade: 9.5/10
Blu Ray Grade: 10/10